2005 Lido 14 Junior Class Championship Regatta
Hosted By Fleet 43 and Anacapa YC
October 2, 2005
Beville/Lilly win 2005 Jr. Class Championship Regatta
The smoke has cleared (figuratively and literally, after the recent fires in Ventura County) and Geno Beville and Nicholas Lilly, both from fleet 43, are the 2005 Jr. Class Champions. With a fourth and a third as their throw outs, Beville/Lilly easily won the regatta with 7 firsts and one second for a total score of 9 points.
With only three points separating second through fourth, the next three places were not determined until the final race of the ten-race regatta. Jacqueline Lilly (Fleet 43) with Tovah Bigeleisen as crew, barely edged out her brother, John Lilly (Fleet 43) and crew Steven Leslie to take second with Alexa Kownacki from Mission Bay (Fleet 7) and crew Kay Sterner (unattached) from Seattle placing fourth, only three points behind Jacqueline and only one point behind John Lilly. Finishing fifth were the brother and sister team of Colin and Katie O'Neill (Fleet 43) whose highlight of the day was winning the fifth race.
The weekend began with an, as usual, fantastic clinic given by John Papadopoulos. (By the way, both John and Stephanie deserve special recognition for all that they do for the Lido 14 Class and Fleet 43 thanks both of them for their help with this year's Junior Class Championship Regatta). Saturday night, everyone was invited to the Bohman's for dinner and before all the dishes were washed an impromptu whiffle ball game began. Kay Sterner proved to have the hardest line drive of the bunch (just ask Eric Kownacki next time you see him) and carried her team to victory in the game.
On Sunday, conditions for the Championship proved to be a little frustrating. The day began with a light and variable southerly and ended with a 4 to 6 knot westerly. In all, a ten race round robin series was held (each team sailed the same boat twice) with each team discarding their worst two finishes.
The theme for this year's Championships was "We are the Future," and everyone is excited for the 2006 Jr. Class Championships.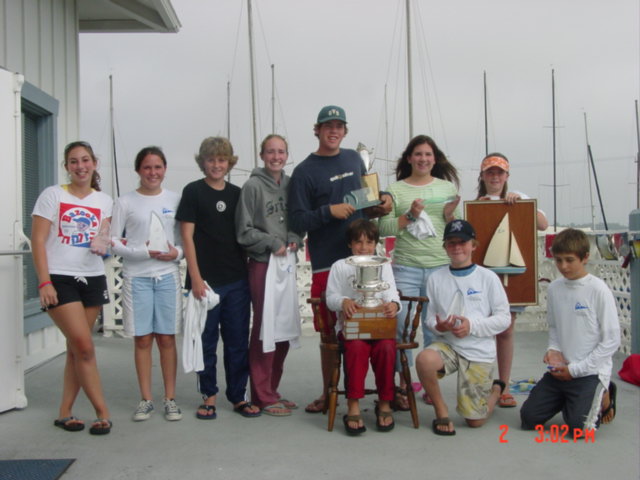 | | | | | | | | | | | | | |
| --- | --- | --- | --- | --- | --- | --- | --- | --- | --- | --- | --- | --- |
| Place | Skipper & Crew | R1 | R2 | R3 | R4 | R5 | R6 | R7 | R8 | R9 | R10 | Ttotal |
| 1st | Geno Beville & Nicholas Lilly | 1 | 1 | 1 | -4 | -3 | 1 | 1 | 1 | 1 | 2 | 9 |
| 2nd | Jacqueline Lilly & Tovah Bigeleisen | 3 | 2 | -5 | 3 | -5 | 2 | 4 | 2 | 3 | 1 | 20 |
| 3rd | John Lilly & Steven Leslie | 2 | -DNF/6 | 2 | 2 | 2 | 3 | 2 | -5 | 4 | 5 | 22 |
| 4th | Alexa Kownacki & Kay Sterner | -5 | 3 | 3 | 1 | 4 | -5 | 3 | 3 | 2 | 4 | 23 |
| 5th | Colin & Katie O'Neill | 4 | -DNF/6 | 4 | -5 | 1 | 4 | 5 | 4 | 5 | 3 | 30 |