2006 Lido 14 Class Championship Regatta
Hosted By Fleet 6 (Alamitos Bay) and Fresno Yacht Club
July 10-12, 2006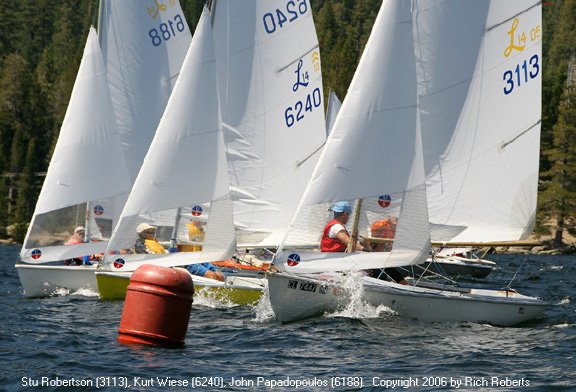 Stu Robertson, sailing with novice crew Steve Mendenhall, successfully defended his Lido 14 Class Championship title (making this his third title in a row and fourth overall) at the Lido 14 Class Championships held on Huntington Lake, CA. Please click on the following links for full reports by yachting reporter and photographer Rich Roberts.
Press Release #1 Press release #2 Press release #3 Press release #4 Photos
Photos are also available for viewing and purchase on Rich Robert's site www.UnderTheSunPhotos.com
The official results are posted on the www.abyc.org.
All boats sailed together in the Qualifying Series. The top half of the fleet raced the Championship Series in the Gold flight, the remainder in the Silver flight.
Flight

Qualifying Series

Championship Series

Gold

Skipper

Crew

Sail #

Q1

Q2

Q3

Total

Rank

R1

R2

R3

R4

R5

Total

1st

Stu Robertson

Steve Mendenhall

3113

4

11

2

17

3

2

1

1

1

2

7

2nd

Freddie Stevens

Fred Stevens

2614

12

9

7

28

9

3

2

6

2

3

16

3rd

Tom Jenkins

Christina Campolmi

6244

3

1

3

7

1

5

4

3

8

1

21

4th

John Papadopoulos

Greg Rodgers

6188

1

12

8

21

5

9

6

2

3

4

24

5th

Eric Heim

Nathan Campbell

4732

9

6

9

24

6

7

9

5

5

10

36

6th

Bob Yates

Pat Kincaid

5051

6

18

22

46

13

10

3

10

10

5

38

7th

Kurt Wiese

Anne Wiese

6240

2

3

4

9

2

1

8

9

4

DNF

46

8th

Eric Bohman

Tiffany Bohman

3579

10

4

12

26

7

6

7

7

14

14

48

9th

Jim Sterner

Kay Sterner

5110

24

10

24

58

18

20

5

11

7

12

55

10th

Grant Hill

Connor Hill

4310

7

5

14

26

8

4

16

8

17

11

56

11th

Jeff McLaren

Tony Beltran

4817

20

8

13

41

11

16

10

4

DSQ

6

60

12th

Ken Campbell

Sandyi Campbell

4509

19

21

6

46

14

17

11

13

11

8

60

13th

Steve Kent

Diane Kent

2833

15

23

17

55

17

12

18

15

6

13

64

14th

Steve Schupak

Anne Schupak

6262

21

20

21

62

22

19

17

14

9

7

66

15th

Walter Johnson

Terry Johnson

6288

17

2

1

20

4

8

14

16

19

9

66

16th

Dave Carroll

Noel Naff

4960

16

15

23

54

16

14

15

12

12

DNF

77

17th

Roger Patterson

Kathy Dryden

6127

11

7

10

28

10

13

13

19

16

16

77

18th

Jeff Adam

Sharron Walker

4078

5

13

25

43

12

11

21

17

15

DNS

88

19th

Randy Carper

Pete Labahn

6100

8

32

19

59

19

21

19

21

13

15

89

20th

Steve Salas

Fred Williams

6053

13

29

18

60

20

15

22

22

18

17

94

21st

Grant Williams

Barbara Williams

4300

35

26

11

72

23

18

20

18

21

18

95

22nd

Louis Holmes

Christine Pai

3890

18

14

16

48

15

22

12

20

20

DNS

98

23rd

Bruce Fleck

Mike Chida

4511

39

17

5

61

21

DNS

DNS

DNS

DNS

DNS

120

Flight

Qualifying Series

Championship Series

Silver

Skipper

Crew

Sail #

Q1

Q2

Q3

Total

Rank

R1

R2

R3

R4

R5

Total

1st

Stephen Mueller

George Shelton

6255

23

37

15

75

25

6

6

3

1

2

18

2nd

Ronald Runyan

Nicole Runyan

4470

25

16

31

72

24

2

1

6

7

3

19

3rd

Nesbitt Ryder

Dina Corsi

4370

26

22

27

75

26

1

4

4

2

11

22

4th

Don Lockwood

Kit Lockwood

5050

28

28

20

76

27

9

7

2

4

4

26

5th

Jeff Zook

Tobi Zook

3542

30

36

28

94

33

3

5

1

8

10

27

6th

Greg Boudreaux

Donovan Maclelland

3650

29

25

30

84

30

7

8

5

3

5

28

7th

Peter Beale

Eric Boisvert

6274

27

27

33

87

31

10

2

7

6

8

33

8th

Tracey Kenny

Robin Tams

4430

33

33

26

92

32

5

9

8

9

7

38

9th

Jim Mackey

Sarah Mackey

5850

14

19

DNF

80

29

4

10

9

10

9

42

10th

Bob Sherwood

Emily Sherwood

6276

22

24

32

78

28

RAF

3

10

5

1

43

11th

Terrie Canon

Donna Miller

6087

40

35

29

104

35

18

14

12

11

12

67

12th

Christopher Killian

Christophe Killian

4136

31

34

DNS

112

37

8

15

13

19

13

68

13th

Peter Dibble

Lowry Gilbert

505

37

31

35

103

34

12

11

15

15

15

68

14th

Bob Kizziar

Jenny Kizziar

2761

32

DNS

DNS

126

39

11

17

11

14

18

71

15th

Robert Hartung

Bob Walker

4602

34

38

34

106

36

14

12

14

17

17

74

16th

Patrick Rygh

Dot Rygh

3000

36

30

DNS

113

38

13

DNS

DNS

12

6

79

17th

Christopher Kip

Anne Dodge

5040

43

39

DNS

129

41

16

13

17

16

19

81

18th

Terry Hensley

Tiffany Hensley

4354

DNS

DNS

DNS

141

46

15

16

DNF

13

16

84

19th

Richard Leijonflycht

Michael Pascual

4516

45

DNS

DNS

139

45

17

18

16

20

DNS

95

20th

Allan Stults

Terry Selleres

5071

41

40

DNF

128

40

21

DNF

DNS

18

14

101

21st

Michelle Wood

Carrie Harrington

6263

44

DNS

DNS

138

44

19

DNF

18

DNS

DNS

109

22nd

Tom Estlow

Karmen Estlow

882

38

DNF

DNS

132

42

20

DNF

DNS

21

DNS

113

23rd

Jim Golway

Alison Golway

4823

42

DNS

DNS

136

43

22

DNS

DNS

DNS

DNS

118