Turkey Day Regatta
Hosted by Alamitos Bay YC
Nov. 17 & 18, 2007

Len Bose & Dina Corsi

Bob Little & Family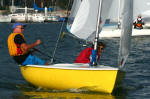 Kurt & Anne Wiese
Photos courtesy of Rich Roberts.
The following report was filed by Lido 14 Fleet 1 member Len Bose
While driving home from this event I had a large smile on my face. I had seen everybody from 'back in the day' to upcoming stars. I had seen families with two boats on their cars - the parents sailing their lido 14 and the kids sailing Sabots. YES! I had a lot to be thankful for. 1. I had sailed well. 2. I did not hit any Sabot's 3. I was leaving a true sailing club with young and not so young sailors attending. 4. The best of all, I had found a good parking place. Yes, I have a lot to be thankful for.
Well now that you got your serving of mashed potatoes let me pass you the gravy and tell you about what you missed on the bay course in the Lido 14 fleet. You really did miss a good event with overcast, although not yet cold, skies, and a shifty southwest breeze of 5-8 knots. Twenty four Lido 14 teams attended, about equally split into A's & B's with separate starts for each. Jerry Montgomery was the PRO and he did an outstanding job keeping the 60 Sabots, 24 Lido and 10 coach boats from killing themselves while we raced windward/leeward courses in the bay.
Dina and I sailed well; I would have to say WAY over my head. We were hitting the shifts like they were pop up squirrels at an arcade. Although I missed the skippers meeting, I was drooling over the Pogo 40 sailboat that is berthed in the ABYC marina. My first quote was a classic two rows from the starting line 'Yep, three minute starts'. Also had fun watching Bob Little with his two kids sailing with him. I am not sure but I think Bob and Lisa changed the name of their boat to '1xtra child dinner'. At the pre-start, Bob's son liked the sound of the starting horn so the little guy (no pun intended) kept duplicating the sound with his voice and was doing a good job. The Little family hung in there all day with a 4th place the last race on Saturday - a three times around race. I wish I could have filmed them on the runs with Bob calmly asking them to quiet up as we approached the leeward mark. He did well for our sport and his wife Lisa. Meanwhile there was a good battle going on for first place between Team Wiese and Team Yates/Kincaid. Unfortunately, for both Team Yates/Kincaid and I sailed through the restricted start finish line in the third race of the day. Teams Kent and Wiese quickly pointed out our mistake and we and unwound ourselves. After the race I was told by a number of people that once you go through a restricted line, you are done. The chief judge and PRO felt I could unwind myself so I'm still not sure about that one.
There was another great quote on the water this weekend from Team Kent. While I was sailing next to him, Gregg Kent said "Hey Dad, looks like we are both last place" to which Steve replied "That's not that funny on this boat Gregg". On Sunday, Team Yates/Kincaid came out of the blocks on fire. Hitting a big right shift and sailing away from the fleet to an easy win. The next race they scored a second. After finishing fourth in the fifth race, Kurt Wiese was seen rubbing his chin and wondering what to do better in the next race. Well he found it - a good start at the upper end on the line, followed by finding the first shift. Team Wiese secured their Turkey dinner.
Lessons learned from this event. Go to the skippers meeting, read the sailing instructions and the race notice board, and leave the Finn sailors a lot of room in the parking lot.
The next race is December 1 at Balboa Yacht Club so come on down.
Also a reminder to pay your Lido Membership BEFORE all your holiday bills arrive!
Sea Ya!
Len Bose