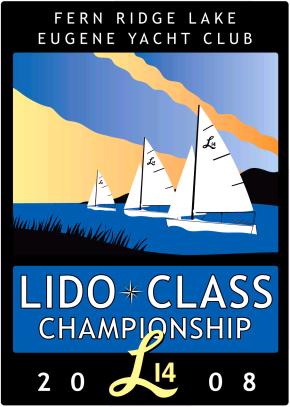 2008 Class Championship Regatta
August 18th – 20th
Competed at Fern Ridge Lake – Eugene, OR
Organized by Lido 14 District VI and hosted by
Eugene Yacht Club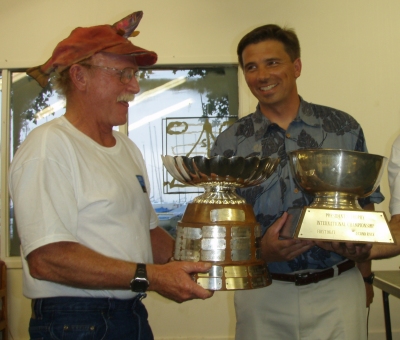 Robertson licks the chop for 5th Lido 14 title
EUGENE, Ore.---The swallows skim over the top of the choppy waves on Fern Ridge Lake swiftly and smoothly, the envy of sailors in little boats.
"The biggest problem for most people coming in here is they aren't used to sailing the Lido 14 in chop," said Stu Robertson, who with daughter Erin as crew won six of the seven races of the 51st Lido 14 Class Championship, including all three in a misty drizzle Wednesday, to claim his fourth title in five years and fifth overall dating to 1975.
Robertson, 59, of Huntington Beach, Calif., was hardly pressed in the 22-boat Gold fleet, leading runnerup Tom Jenkins of Arroyo Grand, Calif., and crew Andrew Brown by 13 points after discarding his worst race---second to Jenkins in Race 3 Tuesday.
The third- and fourth-place finishers, Eric Heim and Aimee Graham of Dana Point, Calif., and Steve and Anne Schupak of Costa Mesa, Calif., sailed consistently well enough to avoid any double-digit finishes, and former champion John Papadopoulos and Stacie Brandt bagged two seconds Wednesday to finish fifth overall, but there was no reeling in the Robertsons.
They have been a Lido 14 team for most of 20 years---she started at age 8---but their skill wasn't the only problem for their rivals. Many of the Californians, to whom summer rain is only a rumor, arrived ill-equipped for wet weather so could only soak up the local atmosphere in the skimpy clothes on their backs. A few settled for oversize trash bags with holes for their heads and arms cut out.
Then, although the forecast of 19-knot winds evolved into only half that, it was steady and strong enough from the deep south of the lake to churn up a two-foot chop with waves not much farther apart than the lengths of the boats.
A few competitors chose not to go back out after lunch, and after two local boats fell out at the start of the seventh race---Bill Crutchfield/Kay Lee Brown were dismasted and Mark and Sheena Schroeder capsized---and the Robertson had the title clinched, principal race officer Rich Johnson decided to cancel the scheduled eighth and final race and call it a regatta.
Few competitors complained.
"The chop was huge," said Grant Williams of San Diego, who with crew/wife Barbara came from one point behind Joe D'Amico and Steven Hopkins in the last race to win the Silver fleet. "It was like sailing in the ocean. But this is still a lovely place to sail. Their [Eugene YC] race committee did their job."
Schupak, fourth in the Gold fleet, said, "It was a challenging day. We had more water coming in than we could keep out."
Meanwhile, Robertson revealed one secret of his success: a new, special set of sails.
"They were full and soft," he said, "just what I needed for driving through the chop."
The rest of the Lido 14 fleet can only long for the day when he retires from the class, but he had this to say about how long he plans to keep doing it: "As long as I can."
Rich Roberts
Press Officer
Lido 14 Class Championships
• Class Championships Picture Book
| | | | | | | | | | | | | | |
| --- | --- | --- | --- | --- | --- | --- | --- | --- | --- | --- | --- | --- | --- |
| Gold | Skipper | Crew | Sail # | R1 | R2 | R3 | R4 | R5 | R6 | R7 | R8 | Discard | Total |
| 1 | Stuart Robertson | Erin Robertson | 3113 | 1 | 1 | 2 | 1 | 1 | 1 | 1 | | 2 | 6 |
| 2 | Tom Jenkins | Andrew Brown | 6244 | 2 | 2 | 1 | 8 | 14 | 3 | 3 | | 14 | 19 |
| 3 | Eric Heim | Aimee Graham | 4732 | 4 | 3 | 3 | 6 | 4 | 5 | 4 | | 6 | 23 |
| 4 | Steve Schupak | Anne Schupak | 6262 | 3 | 6 | 9 | 4 | 3 | 4 | 9 | | 9 | 29 |
| 5 | John Papadopoulos | Stacie Brandt | 6300 | 5 | 13 | 6 | 16 | 2 | 8 | 2 | | 16 | 36 |
| 6 | Freddie Stevens | Fred Stevens | 2614 | 10 | 8 | 5 | 2 | 20 | 12 | 6 | | 20 | 43 |
| 7 | Bob Yates | Pat Kincaid | 5051 | 8 | 12 | 14 | 3 | 6 | 6 | 8 | | 14 | 43 |
| 8 | Garrett Johns | Tracey Johns | 4870 | 18 | 9 | 16 | 7 | 5 | 2 | 12 | | 18 | 51 |
| 9 | Sarah Ryan | Mark Ryan | 4790 | 13 | 4 | 10 | 19 | 12 | 13 | 5 | | 19 | 57 |
| 10 | Jerald Skeen | Jaxon Skeen | 3979 | 6 | 18 | 7 | 11 | 7 | 9 | DNF | | 23 | 58 |
| 11 | Jim Sterner | Carolyn Sterner | 5110 | 7 | 10 | 15 | 5 | 8 | 15 | 15 | | 15 | 60 |
| 12 | Stephen Orsini | Ginger Orsini | 6310 | 9 | 15 | 8 | 12 | 9 | 14 | 10 | | 15 | 62 |
| 13 | Steve Potter | Christina Potter | 6284 | 19 | 7 | 4 | 14 | 16 | 7 | 17 | | 19 | 65 |
| 14 | Walter Johnson | Terry Johnson | 6288 | 11 | 5 | 19 | 18 | 10 | 18 | 13 | | 19 | 75 |
| 15 | Tracey Kenney | Robin Tams | 4430 | 12 | 16 | 13 | 10 | 13 | 17 | 11 | | 17 | 75 |
| 16 | Dave Carroll | Tabatha Lasafer | 4960 | 16 | 11 | 17 | 9 | 15 | 10 | DNS | | 23 | 78 |
| 17 | Ron Runyan | Nicole Runyan | 6131 | 20 | 14 | 20 | 13 | 18 | 11 | 7 | | 20 | 83 |
| 18 | James Mackey | Sarah Mackey | 4284 | 15 | 17 | 11 | 17 | 11 | 19 | DNF | | 23 | 90 |
| 19 | Roger Hinton | Anne Hinton | 3906 | 21 | 21 | 12 | 15 | 21 | 16 | 14 | | 21 | 99 |
| 20 | Allan Stults | Terry Sellers | 5071 | 14 | 19 | 21 | 22 | 17 | 21 | 16 | | 22 | 108 |
| 21 | Leeanne Bale-Fish | Ron Fish | 615 | 17 | 22 | 18 | 21 | 19 | 20 | DNS | | 23 | 117 |
| 22 | Chris Lofgren | Miles Lofgren | 2351 | 22 | 20 | 22 | 20 | DNS | DNS | DNS | | 23 | 130 |
| Silver | Skipper | Crew | Sail # | R1 | R2 | R3 | R4 | R5 | R6 | R7 | R8 | Discard | Total |
| 1 | Grant Williams | Barbara Williams | 4300 | 6 | 4 | 2 | 1 | 1 | 4 | 2 | | 6 | 14 |
| 2 | Joe Damico | Steven Hopkins | 6025 | 3 | 2 | 1 | 6 | 4 | 1 | 6 | | 6 | 17 |
| 3 | Hank Erbele | Bernie Lentz | 2681 | 4 | 3 | 10 | 3 | 5 | 5 | 1 | | 10 | 21 |
| 4 | Victor Lund | Ed Stevens | 4803 | 2 | 1 | 9 | 5 | 8 | 2 | 4 | | 9 | 22 |
| 5 | Roger Patterson | Kathy Dryden | 6127 | 5 | 6 | 4 | 2 | 2 | 9 | DNS | | 22 | 28 |
| 6 | Peter Rasco | Bernard Saggese | 4115 | 9 | 9 | 8 | 4 | 3 | 3 | 7 | | 9 | 34 |
| 7 | Mark Schroeder | Sheena Schroeder | 4633 | 1 | 7 | 6 | 7 | 12 | 8 | DNF | | 22 | 41 |
| 8 | Tom Estlow | Karmen Estlow | 6195 | 7 | 5 | 7 | 11 | 7 | 10 | 8 | | 11 | 44 |
| 9 | Matt Nolan | Maggie Nolan | 4543 | 11 | 10 | 5 | 8 | 11 | 7 | 5 | | 11 | 46 |
| 10 | Lorin Moentenich | Avis Newell | 3997 | 13 | 11 | 14 | 10 | 6 | 6 | 3 | | 14 | 49 |
| 11 | Ellen Collins | Lenore Collins | 6313 | 8 | 8 | 3 | 9 | 8 | 13 | DNS | | 22 | 49 |
| 12 | Everett Hobson | Johnathon Hobsen | 4226 | 18 | 12 | 12 | 17 | 15 | 11 | 9 | | 18 | 76 |
| 13 | James Clevenberg | Neil Peterson | 3720 | 16 | 16 | 13 | 12 | 13 | 14 | 10 | | 16 | 78 |
| 14 | Richard Chase | Blanche Chase | 6156 | 10 | 13 | 16 | 15 | 14 | 12 | DNS | | 22 | 80 |
| 15 | Bill Crutchfield | Kay Lee Brown | 1952 | 12 | DNF | 11 | 13 | 10 | 15 | DNF | | 22 | 83 |
| 16 | Ted Walkup | Ed Emrick | 158 | 19 | 14 | 15 | 14 | 20 | 17 | 11 | | 20 | 90 |
| 17 | Michelle Wood | Bill Howitt | 6263 | 14 | 19 | 18 | 16 | 16 | 16 | DNS | | 22 | 99 |
| 18 | Kathy Muenz | Stefanie Carroll | 4205 | 21 | DNS | 17 | 18 | 18 | 18 | 12 | | 22 | 104 |
| 19 | Becky Barker | Marti Kersh | 2304 | 20 | 17 | 21 | 20 | 19 | 20 | 13 | | 21 | 109 |
| 20 | Kay Sterner | Anna Misenti | 2963 | 17 | 18 | 20 | 19 | 17 | 19 | DNS | | 22 | 110 |
| 21 | David Ispas | Richard Joyce | 3391 | 15 | 15 | 19 | 21 | DNS | DNS | DNS | | 22 | 114 |