Aug. 18, 2008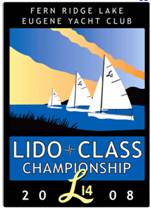 Fair weather or foul, Lido 14 Champs ready to go
EUGENE, Ore.---One sailor's mast blew down, others worried about that or worse, and Walter Johnson's crew-wife Terry said, "We were going so fast that water was shooting up through the centerboard [housing]."
So went a weekend practice race for the 51st Lido 14 Class Championship scheduled Tuesday and Wednesday at Fern Ridge Lake, hosted by the Eugene Yacht Club. The storm winds of 18 to 20 knots were just what you don't want for this basic family dinghy, but the three-by-five-mile, horseshoe-shaped reservoir nestled in the Willamette Valley of west-central Oregon may have other ideas.
"We had a hard time keeping the boat under control," said Mark Schroeder, a local veteran sailing with his wife Sheena as crew. "It was a little more than a Lido would like to see."
| | | |
| --- | --- | --- |
| <![if !vml]><![endif]> | <![if !vml]><![endif]> | <![if !vml]><![endif]> |
| Tom Jenkins - Lido #6244 | Need inspiration? 9-time Lido 14 champion Dave Ullman (r) dropped by | Racers in qualifying series |
Conditions for Monday's three qualifying races to split the fleet into Gold and Silver divisions were much more manageable with south winds of 5 to 10 knots after morning showers, but when someone like Schroeder who has been racing on the lake for 20 years says, "This is unusual for us to get rain in August, but this year has not been very normal," who knows what to expect?
The forecast was for rain to return late Tuesday afternoon and continue through Wednesday.
Whatever the conditions, the best sailors have a way of rising to the top, a habit that makes favorites of four-time winner Stu Robertson and daughter Erin of Fountain Valley, Calif.; recent High Sierra Regatta winner Tom Jenkins of Arroyo Grande with crew Andrew Brown, and frequent contenders Freddie and dad Fred Stevens of Long Beach.
Not all of the above raced one another in Monday's divided fleets, but the top boats were Robertson, 1-1-1; Steve Schupak, 1-1-3; Jenkins, 4-3-2; event co-chairman Jim Sterner of Bainbridge Island, Wash., 2-4-3; Bob Yates of Newport Beach, 2-3-5, and Eric Heim, Newport Beach, 4-2-4.
Mark Gaudio of Newport Beach, another four-time winner and current champion, is not competing, nor are usual contenders Kurt and Anne Wiese of Newport Beach, who had entered but withdrew because of a late business conflict.
Dave Ullman, the biggest Lido 14 winner of all with nine titles from 1969 through 1986, is here but not to sail. He was the featured speaker at Monday night's luau dinner.
Racing will be on a 1 1/4-mile-long windward-leeward course starting at 11 a.m. each day---conditions, of course, permitting.
Veterans Roger and Anne Hinton of San Diego will have their mast back up after Sunday's collapse when a shroud chain plate tore loose in the blustery breeze.
Schroeder said, "Normally in August you'd see very light winds with a high-pressure system sitting over the area, and when the land becomes warmer than the ocean the wind comes in from the sea (Fern Ridge Lake is about 40 miles inland). That's normal. This year has not been normal."
All together now: "It's … never … like … this … here."
MEDIA CONTACT
Rich Roberts
310.835.2526
cell 310.766.6547
The following tables how the rankings after the three round robin races of the Qualifying Series. All competitors were grouped into four different (seeded) groups with each group racing the other three groups once. Total points were accumulated for each boat to rank the boats with the top half being assigned to the Gold Flight of the Championship Series that starts on Tuesday. If sailing continues on schedule, none of the Qualifying Series scores or rankings will be used.
| | | | | | |
| --- | --- | --- | --- | --- | --- |
| Gold | | | | | |
| Sail# | Skipper | Crew | Boat Name | Points | Rank |
| 3113 | Stuart Robertson | Erin Robertson | Snopy | 3 | 1 |
| 6262 | Steve Schupak | Anne Schupak | 14 Karat | 5 | 2 |
| 6244 | Tom Jenkins | Andrew Brown | Snafu | 9 | 3 |
| 5110 | Jim Sterner | Carolyn Sterner | Fin | 9 | 4 |
| 5051 | Bob Yates | Pat Kincaid | Just In Time | 10 | 5 |
| 4732 | Eric Heim | Aimee Graham | One Love | 10 | 6 |
| 2614 | Freddie Stevens | Fred Stevens | War Zone | 11 | 7 |
| 6300 | John Papadopoulos | Stacie Brandt | | 14 | 8 |
| 6310 | Stephen Orsini | Ginger Orsini | Greased Pig | 16 | 9 |
| 3979 | Gereald Skeen | Jaxon Skeen | Beagle | 19 | 10 |
| 6131 | Ron Runyan | Nicole Runyan | Kitty | 21 | 11 |
| 6288 | Walter Johnson | Terry Johnson | My Bad | 23 | 12 |
| 4870 | Garrett Johns | Tracy Johns | Runaway Pig | 23 | 13 |
| 4790 | Sarah Ryan | Madd Max Mark Ryan | Cruisin' N Losin | 26 | 14 |
| 6284 | Steve Potter | Christina Potter | Isis | 26 | 15 |
| 4960 | Dave Carroll | Tabatha Lasater | PU | 26 | 16 |
| 3906 | Roger Hinton | Anne Hinton | | 27 | 17 |
| 2351 | Chris Lofgren | Miles Lofgren | Sweaty Marshmallow | 30 | 18 |
| 4284 | James Mackey | Sarah Mackey | Electric Schock | 31 | 19 |
| 127 | Leeanne Bale-Fish | Ron Fish | White Trash | 31 | 20 |
| 4430 | Kenney, Tracey | Robin Tams | Shenanigans | 32 | 21 |
| 5071 | Allan Stults | Terry Sellars | Water Witch | 33 | 22 |
| 22 | Total Competitors | | | | |
| | | | | | |
| Silver | | | | | |
| Sail# | Skipper | Crew | Boat Name | Points | Rank |
| 6127 | Roger Patterson | Kathy Dryden | | 34 | 1 |
| 6195 | Tom Estlow | Karmen Estlow | Cat n the Hat | 34 | 2 |
| 4300 | Grant Williams | Barbara Williams | Capt's Fancy | 35 | 3 |
| 4803 | Victor Lund | Ed Stevens | Flow | 36 | 4 |
| 2681 | Hank Erbele | Bernie Lentz | Lil' Juan | 37 | 5 |
| 4633 | Mark Schroeder | Sheena Shroeder | Leapin' Lido | 37 | 6 |
| 6025 | Joe Damico | Steven Hopkins | | 38 | 7 |
| 4115 | Peter Rasco | Bernard Saggese | Fine Swine | 41 | 8 |
| 3997 | Lorin Moentenich | Avis Newell | Cocopuff | 46 | 9 |
| 1952 | Bill Crutchfield | Kaylee Brown | Tumblin' Dice | 51 | 10 |
| 6156 | Richard Chase | Blanche Chase | Chaser Too | 52 | 11 |
| 6313 | Ellen Collins | Lenore Collins | Delores | 53 | 12 |
| 158 | Ted Walkup | Ed Emrick | Orange Crush | 54 | 13 |
| 3720 | James Clevenberg | Neil Peterson | Slippery When Wet | 54 | 14 |
| 3391 | David Ispas | Richard Joyce | Libido | 56 | 15 |
| 2304 | Becky Barker | Marti Kersh | Curious George | 57 | 16 |
| 4226 | Everett Hobson | Jonathon Hobson | Hillarity | 57 | 17 |
| 6263 | Michelle Wood | Bill Howitt | Zephyr | 60 | 18 |
| 4543 | Matt Nolan | Maggie Nolan | Logic | 61 | 19 |
| 4205 | Kathy Muenz | Stefanie Carroll | | 62 | 20 |
| 2963 | Kay Sterner | Anna Misenti | Malarkey | 67 | 21 |
| 21 | Total Competitors | | | | |
Rich Robert's Pre Regatta Report